PA225 Violence and Projective Processes in Individuals and Society (Southend)
2018/19
Archived
This list has been archived
Recommended Reading List

11 items

Welcome to this module. The readings listed below are the whole texts which we recommend to you for extended and additonal study. It is not necessay to read eveything but you could explore these books and enjoy making discoveries in them.

It is necessary to read all the weekly readings and to do so prior to the lecture / seminars as only then can you get the best out of them.

Good luck! Chris

Week 16: Violence in Children, Adolescents and adults

5 items

Today we will look at the module overall, consider the assignment we are working toward and the assessment process. Then we will go on to consider violence, broadly define it and contrast it with aggression and finally to consider some of the issues raised and examples from the readings

Essential Reading

5 items

Week 17: A Psychoanalytic Approach to Hate

3 items

It is difficult to think about feelings like hate in our work but Winnicott here shows how important this is and presents a model in which we must study our own emotional responses to our clients as a part of their treatment. In Hinshelwood's chapter we consider how organisations may express hatred through forms exclusion.

Essential Reading

3 items

Week 18: Integration in Early Development

5 items

Having begun to explore different forms of violent behaviour, this week we go back to early development and consider some of the development processes which lead to better integrity of the personality. These processes can continue in various forms in family and social life in adulthood and can protect us from kinds of internal division which can lead to violence. We also consider a psychoanalytic approach to the causes of autism based in very early defensive maneuvers which allows us to reflect upon those described as having Autistic Spectrum Disorder (ASD).

Essential Reading

4 items

Week 19: Treatment in a Therapeutic Community

6 items

We will consider two models of how to structure a therapeutic community (TC). The models were both developed by psychiatrists working psychodynamically in TCs. He first is dealing more specifically with violence in a children's community, while the second is applied to Democratic Therapeutic Communities for adults. The recommended reading is a description of a model currently in use at the Mulberry Bush School. All three models describe what has been called 'planned therapeutic environments' aimed at creating organisations able to contain quite troubled people.

Essential Reading

4 items

Secondary reading

2 items

Week 20: The Application of Therapeutic Community Principles and Group Work

5 items

This week's the lecture will cover mainly the texts by Dwivedi on working in groups which applicable to children and adult groups. You should read and study the three texts below and arrive prepared to discuss these actively. In the second seminar we will be holding a formal debate on the question: 'Can therapeutic community theory and practice be applied in other settings?' Consider critical the arguments for and against this.

Essential Reading

4 items

Week 21: Old Age and Treatment

3 items

The Erikson chapter indicates very well the issues and dilemmas associated with ageing – late aging in the 80s and 90s – and this is now an ever more pressing concern. In his psychosocial model we may wonder how society itself forces some elements of the conflicts Erikson exposes onto the elderly person. In Terry's paper, the focus is upon the close observation of interactions between therapists or carers and their elderly clients. Projective processes are explored in depth.

Essential Reading

2 items

The life cycle completed / Erik H. Erikson - Erik H. Erikson, Joan M. Erikson c1998, c1997

Book Read Chapter: 'Old age and Community' . If you work with older people you should read this chapter. It is very moving and insightful about the place of older people in society and can help you to consider how we can better improve the experiences available to people moving toward the end of life.

Week 22: Disability, Idealism and Omnipotence

3 items

Today's lecture will address the difficulties we face when unexpected events overtake us – in this case, the birth a child quite different from our expectations or when our omnipotent fantasies of control are used to manage the inherent complexities in our work.

Essential Reading

3 items

Week 23: Refugee Trauma and Language

2 items

Essential Reading

2 items

Week 24: Psychoanalytic approach to Racism

4 items

Here we will look at Keval's model of a fixed state of mind in which contributes to racist attitudes and suggest that this is primarily and issue with learning and accepting new experience. In Cohen's paper we can explore how children encounter their own aggression and violent urges and the representation of this in children's fiction. Projection plays a role in both arguments.

Essential Reading

4 items

Week 25: Review and Preparation

1 item

In this seminar / workshop you will bring a prepared essay plan and some of you will present these, but we will all discuss the issues which emerge from the presentations and plan for you to write the best essay you can. There are no readings but please review your notes as this is a review seminar. It is essential to attend.
All rights reserved ©
Profile Required
Reading intentions and notes are stored against your user profile. Please create a profile to use this feature.
My notes
You must be logged in to add a note
What are item notes?
You can use item notes to make personal notes on any of your reading items. Notes are private to you and will not be shown to other users.
You can review your item notes from the list, the item page or from your profile page.
---
How do I create an item note?
To make notes, first you must be logged in. Once logged in, simply click Add note? next to the list item you wish to make notes on. You can also make notes at the bottom of every item's detail page.
Your note will be saved automatically as you type.
Have you read this?
You must be logged in to set a reading intention
What are reading intentions?
Setting up reading intentions help you organise your course reading. It makes it easy to scan through your lists and keep track of progress. Here's an example of what they look like: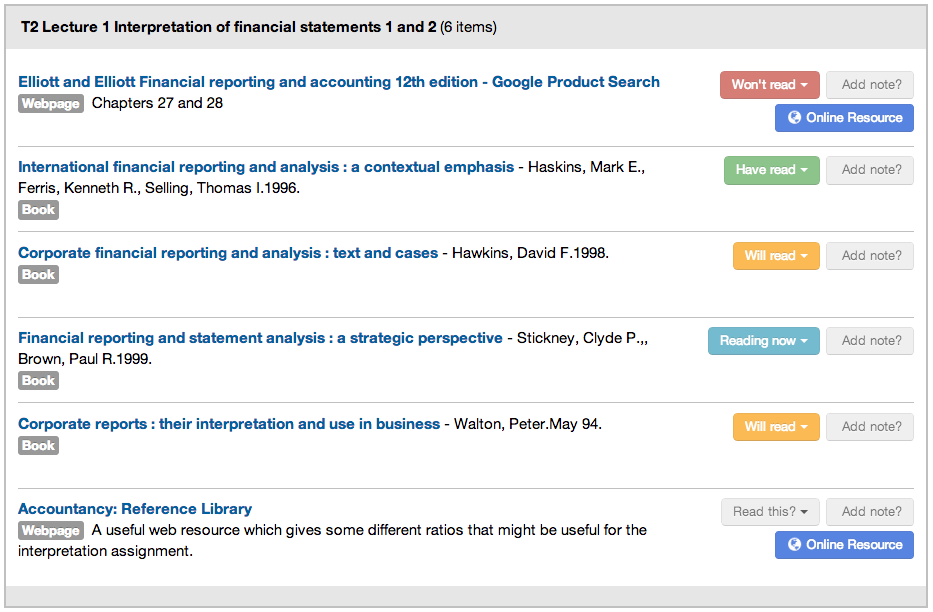 Your reading intentions are also stored in your profile for future reference.
---
How do I set a reading intention
To set a reading intention, first you must be logged in. Once logged in, click Read this? next to the list item you wish to set a reading intention for.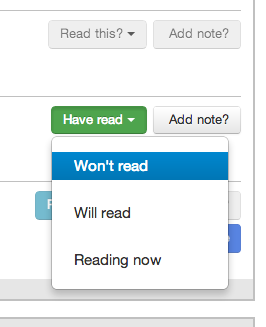 You can also set the reading intention from every item's detail page.