HS251 Occupational Therapy in Physical and Mental Health
2016/17
Archived
This list relates to the year 2016/17 which ended on 30/09/2017
This list has been archived
This list shows reading for 2015/16. A newer list is not currently available

Resources required

29 items

Referencing guidelines

Please refer to the School's current Referencing Guidelines which are available in the 2014/15 Undergraduate programme handbook. The handbook can be accessed on the Pre-Registration Occupational Therapy Moodle page.

Texts and other resources

21 items

The major texts that may be useful for this module are given below. During the module additional reading material will be recommended and weekly preparation will be required.

Occupational therapy and older people - Anita Atwal, Anne McIntyre 2013144433333X,1118556127,1118556135,1118556143,9781444333336,9781118556122,9781118556139,9781118556146

Book Recommended

Additional resources

7 items

Journal articles will be provided as supplementary reading, linked to relevant lecture topics on the HS251 Moodle page.

Summative Assessment

2 items

The video case study to be used as a basis for the 3000 word summative assignment can be accessed via the following link:
All rights reserved ©
Profile Required
Reading intentions and notes are stored against your user profile. Please create a profile to use this feature.
My notes
You must be logged in to add a note
What are item notes?
You can use item notes to make personal notes on any of your reading items. Notes are private to you and will not be shown to other users.
You can review your item notes from the list, the item page or from your profile page.
---
How do I create an item note?
To make notes, first you must be logged in. Once logged in, simply click Add note? next to the list item you wish to make notes on. You can also make notes at the bottom of every item's detail page.
Your note will be saved automatically as you type.
Have you read this?
You must be logged in to set a reading intention
What are reading intentions?
Setting up reading intentions help you organise your course reading. It makes it easy to scan through your lists and keep track of progress. Here's an example of what they look like: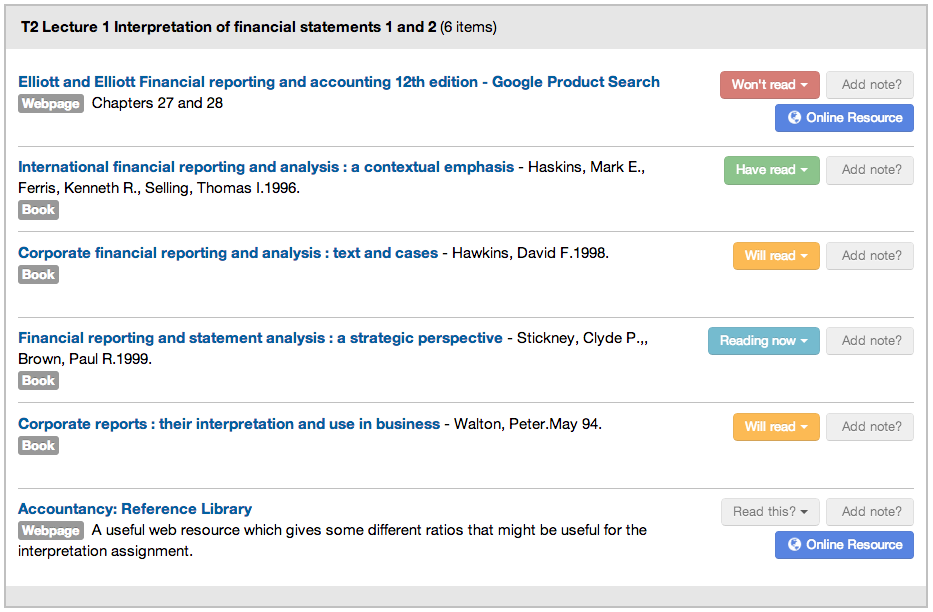 Your reading intentions are also stored in your profile for future reference.
---
How do I set a reading intention
To set a reading intention, first you must be logged in. Once logged in, click Read this? next to the list item you wish to set a reading intention for.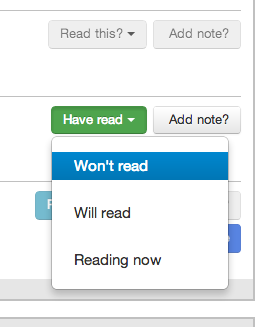 You can also set the reading intention from every item's detail page.