This list relates to the year 2016/17 which ended on 30/09/2017
This list has been archived
Reading for the module

13 items

There are a number of good research methods textbooks that would be appropriate for this module. Some are listed below. We would urge you to buy one of these at least to ensure you have access to one for the whole period of study as you will need a reference book again for your research. Some of the material in the module will relate to specific book chapters, and it is therefore advisable to read the relevant chapter (or a similar chapter from an alternative text) when you are directed to.

There are also a number of very good text books relating to data analysis. As you will be
practising using both qualitative and quantitative techniques we have recommended one
of each type of text book below.

Both have been chosen for those new to data analysis so
that you won't feel completely out of your depth when you start reading. However, they
both cover the subjects in detail and can also be used by those of you that are more
experienced in data analysis.

Finally, we would like to recommend a text which is specifically aimed at writing a
literature review.

Other useful resources

1 item

There is a vast literature about research methods that by its nature has a tendency to be somewhat specialist, but you will need to become familiar with some of it.


Many useful resources are freely available online; in addition to this, as a registered
student you can access a wide range of databases and journals via the University library.
Information about how you can do this when you are off-campus is available from the
library webpages. We recommend that you browse through recent copies of journals
relevant to your field of study on a regular basis.


Further readings, most of which are available online, are recommended in the individual
lessons within each Topic.
All rights reserved ©
Profile Required
Reading intentions and notes are stored against your user profile. Please create a profile to use this feature.
My notes
You must be logged in to add a note
What are item notes?
You can use item notes to make personal notes on any of your reading items. Notes are private to you and will not be shown to other users.
You can review your item notes from the list, the item page or from your profile page.
---
How do I create an item note?
To make notes, first you must be logged in. Once logged in, simply click Add note? next to the list item you wish to make notes on. You can also make notes at the bottom of every item's detail page.
Your note will be saved automatically as you type.
Have you read this?
You must be logged in to set a reading intention
What are reading intentions?
Setting up reading intentions help you organise your course reading. It makes it easy to scan through your lists and keep track of progress. Here's an example of what they look like: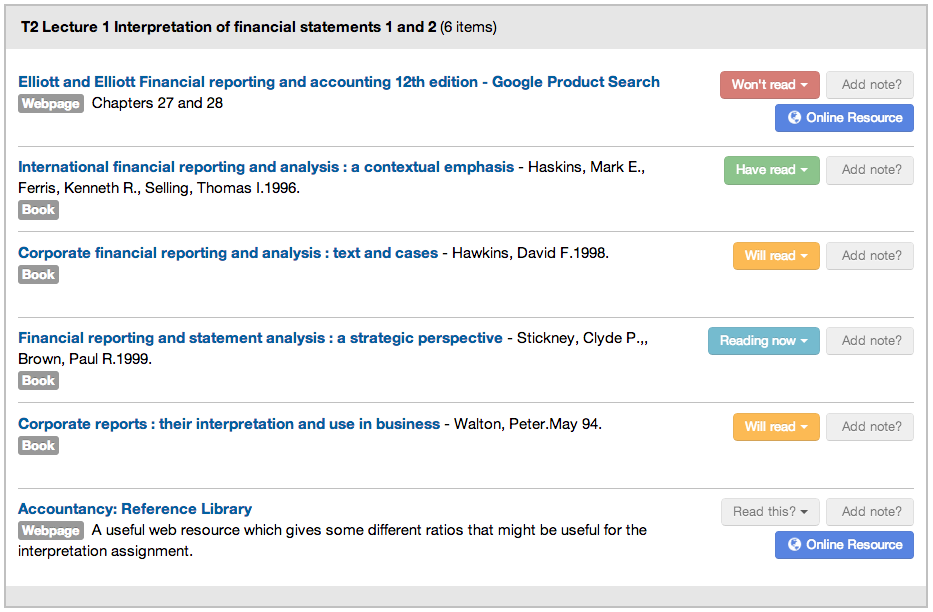 Your reading intentions are also stored in your profile for future reference.
---
How do I set a reading intention
To set a reading intention, first you must be logged in. Once logged in, click Read this? next to the list item you wish to set a reading intention for.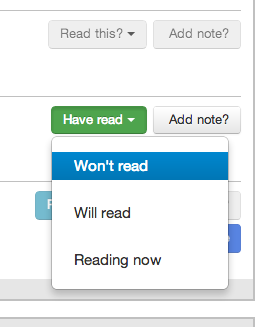 You can also set the reading intention from every item's detail page.