This list relates to the year 2016/17 which ended on 30/09/2017
This list has been archived
The information below is taken from the 2015/2016 list

If you can only acquire an older edition then that is fine as long as it is not too old!!

*The site addresses are correct at the time of submission but are subjec to change.

Website Centre for Evidence-Based Medicine provides useful links and tool kits.

Cochrane | Trusted evidence. Informed decisions. Better health.

Website The Cochrane Library provides access to high quality evidence to inform people providing and receiving care, and those responsible for research, teaching, funding and administration at all levels. Use the link to The Cochrane Collaboration and then click on the Cochrane Library Button

Webpage The Department of Health produces new guidelines which are published on its web site and are listed on the "What's New" page. The page changes almost daily

Bandolier - Evidence based thinking about health care

Journal Bandolier is a print and Internet journal about health care, using evidence-based medicine techniques to provide advice about particular treatments or diseases for healthcare professionals and consumers.

Website This Australian site acts as a guide for the completion of systematic reviews that will aim to present the best available evidence. Joanna Briggs Institute for Evidence Based Nursing and Midwifery.

British Nutrition Foundation - British Nutrition Foundation

Website The British Nutrition Foundation website, a UK based charity partially funded by the food industry and the government. The information section addresses issues concerning Coronary Heart Disease (CHD), including the rates and risks, diet, blood pressure, maintaining a healthy weight, fatty acids etc

Some of the patient support group website:

The Moodle site contains a variety of learning tools and module content and you are advised to access this frequently. Anatomy 101 on Moodle is also useful to you.

The School's marking grid is not relevant to the exam marking system for this module. The marks required for a correct answer will be denoted on the exam paper and the student will have practice with these during the module.
All rights reserved ©
Profile Required
Reading intentions and notes are stored against your user profile. Please create a profile to use this feature.
My notes
You must be logged in to add a note
What are item notes?
You can use item notes to make personal notes on any of your reading items. Notes are private to you and will not be shown to other users.
You can review your item notes from the list, the item page or from your profile page.
---
How do I create an item note?
To make notes, first you must be logged in. Once logged in, simply click Add note? next to the list item you wish to make notes on. You can also make notes at the bottom of every item's detail page.
Your note will be saved automatically as you type.
Have you read this?
You must be logged in to set a reading intention
What are reading intentions?
Setting up reading intentions help you organise your course reading. It makes it easy to scan through your lists and keep track of progress. Here's an example of what they look like: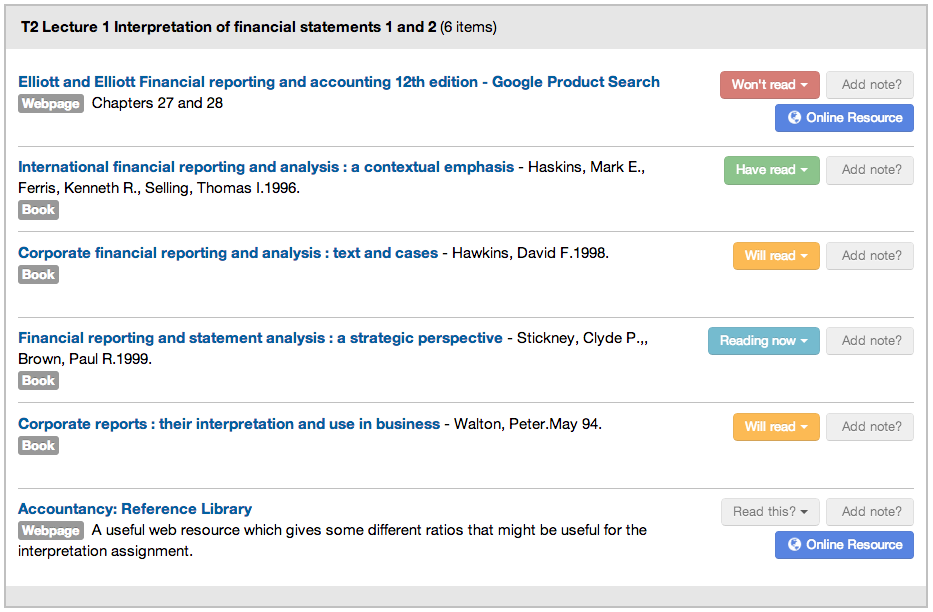 Your reading intentions are also stored in your profile for future reference.
---
How do I set a reading intention
To set a reading intention, first you must be logged in. Once logged in, click Read this? next to the list item you wish to set a reading intention for.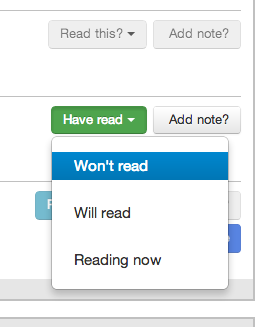 You can also set the reading intention from every item's detail page.