This list relates to the year 2016/17 which ended on 30/09/2017
This list has been archived
Research for social workers : an introduction to methods / Margaret Alston & Wendy Bowles. - Alston, Margaret.9780415506816

Book The third edition of this is fairly helpful, it covers the major stages of research projects which are outlined step by step, including analysing results and reporting and is written in non-technical language for students and practitioners without a strong maths background. The examples are global and the end of chapter exercises and questions make it a fairly good introduction to research methods.

Understanding research for social policy and social work : themes, methods and approaches.9781847428158

Book This book is edited and largely written by the leading academic lights in the field of social work research and is fairly comprehensive in scope, with over 80 leading contributors. It's accessible and engaging style, which combines theoretical and applied discussions and case examples to provide a very good guide to research methods, approaches and debates

Social work research in practice : ethical and political contexts / Heather D'Cruz and Martyn Jones. - D'Cruz, Heather,9781446200797

Book This book is about doing social work research and comes straight from its authors' practices as social work teachers. Well written, it tackles most of the wide-ranging topics in qualitative and quantitative research. Not politically neutral, the book has a clear bias, advocating for the marginalised and dispossessed. Its politics are not overbearing, however, and the quality of much of the material is excellent. It was a great pleasure to review this stimulating and interesting book, although frustrating, too, because it made me at times hopeful that it would go further in its range and coverage than it did. In sum, it is a well-structured book and each chapter has an introduction and a final summary of the main points. A newer edition of this book has been ordered, check the Southend books catalogue.
All rights reserved ©
Profile Required
Reading intentions and notes are stored against your user profile. Please create a profile to use this feature.
My notes
You must be logged in to add a note
What are item notes?
You can use item notes to make personal notes on any of your reading items. Notes are private to you and will not be shown to other users.
You can review your item notes from the list, the item page or from your profile page.
---
How do I create an item note?
To make notes, first you must be logged in. Once logged in, simply click Add note? next to the list item you wish to make notes on. You can also make notes at the bottom of every item's detail page.
Your note will be saved automatically as you type.
Have you read this?
You must be logged in to set a reading intention
What are reading intentions?
Setting up reading intentions help you organise your course reading. It makes it easy to scan through your lists and keep track of progress. Here's an example of what they look like: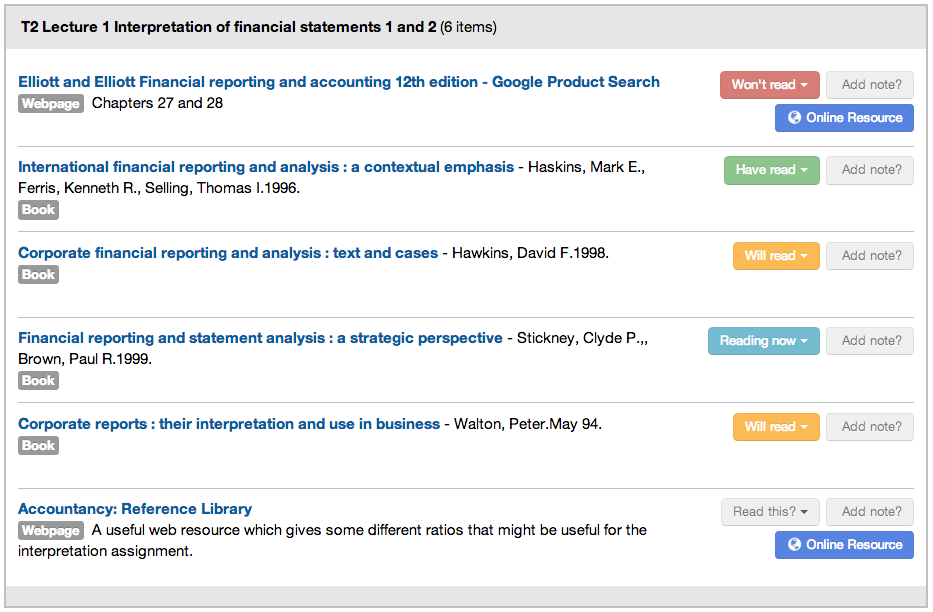 Your reading intentions are also stored in your profile for future reference.
---
How do I set a reading intention
To set a reading intention, first you must be logged in. Once logged in, click Read this? next to the list item you wish to set a reading intention for.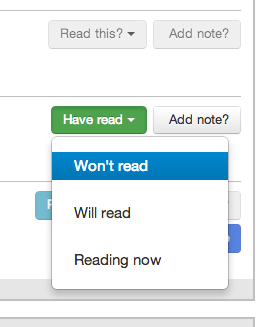 You can also set the reading intention from every item's detail page.